OPIE's Web Page
American Pit Bull Terrier (short coat) : : Male (neutered) : : Adult : : Large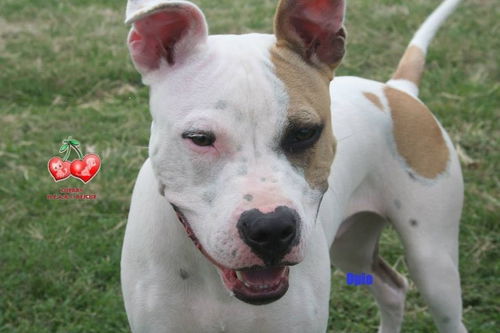 Won't you think about adopting me?
Learn more about the American Pit Bull Terrier.
OPIE needs a caretaker or foster! Won't you consider helping him get a new start?
Print an adoption flyer for OPIE!
About OPIE

Status: Available for Adoption (adoption info)
Adoption Fee: 200
Species: Dog
Rescue ID: 0A136B205F
General Color: White with Tan, Yellow or Fawn
Color: White with Tan/Fawn / Patches
Eye Color: Brown
Ear Type: Natural/Uncropped
Tail Type: Long
Current Size: 65 Pounds
Potential Size: 65 Pounds

Fence Required: Yes
Declawed: No
Housetrained: Yes
Obedience Training Needed: Needs Training
Exercise Needs: Moderate
Grooming Needs: Low
Shedding Amount: Moderate
Owner Experience Needed: Species
Reaction to New People: Cautious
Opie came to Nana's from a family that had to move into an apartment where the manager didn't understand how loving and what great dogs Pit Bulls are. He was about 6 months old when he had to leave his home. He did get adopted but the resident male dog was not interested in sharing his home, so Opie came back to Nana's. We've watched him turn into a very handsome young dog who loves to be petted and scratched. Opie loves to play fetch and gets along great with female dogs. He's not very good with other male dogs, so he'd be better suited to a home where there's only female dogs or no other dogs. Opie is very active, but is always willing to lay down with you and take a nap. A perfect home for Opie would have a person who likes to jog or run, and would be willing to take Opie along. He knows a few commands is crate & house trained. Opie is about two 1/2 years old now and has matured into a great companion dog. He would really blossom in a home of his own.
More about OPIE
Good with Some Dogs (No male dogs)
,
Good with Cats
,
Good with Kids
,
Good with Adults
,
Quiet
,
Does Good in the Car
,
Requires a yard
,
Leashtrained
,
Cratetrained
,
Plays fetch
,
Likes to play with toys
,
Obedient
,
Playful
,
Affectionate
,
Eager To Please
,
Intelligent
,
Even-tempered
,
Goofy